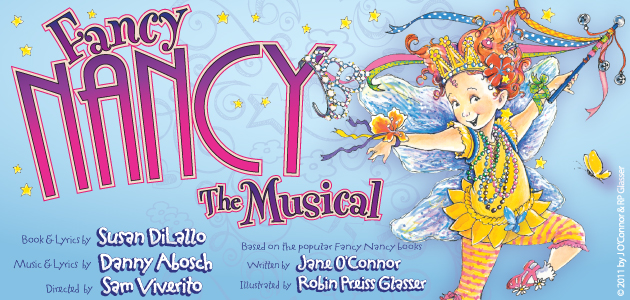 The Vital Theatre has done it again-they have started off their 2012/2013 season with a fun and engaging show that will appeal to all members of your family.
Fancy Nancy is a beloved character of children everywhere. The actress who portrays Fancy Nancy looks like she leaped right off the pages of the beloved books. The story centers around Nancy and her best friend Bree trying out for the parts of mermaids in a show. Neither gets the role-a new girl is chosen to be the mermaid. Bree gets the role of an oyster, and Nancy the part of a tree. Both are very disappointed. Nancy gets even more upset when the new girl gets injured, can't be the mermaid, and then Bree gets offered the role.
Nancy's mother helps her understand that it is okay to be upset and disappointed, but also to see the positive of the situation. Trees are beautiful, living things, and just being a part of a show is exciting. Nancy does a great performance as the tree, and she realizes her mother was right-no matter what role one has it is exciting to be part of a show, and performing with friends.
I love the way the shows at the Vital Theatre always convey great lessons on friendship and compassion in a way that young children can understand the message. At an hour's length it is just the right amount of time for young children.
We saw the show with a friend and her daughter. Both Julia and my friend's daughter were captivated from the moment the curtains opened. In fact Julia was in a somewhat of a bad mood before the show started, and she kept insisting she would want to leave. Well, from the moment the curtains opened and Nancy immediately begin dancing Julia's eyes never left the stage. She is already asking when we can go again!
Click on the link, and buy your tickets today!
http://www.vitaltheatre.org/fancynancy-2012.php
Disclosure: I was not paid for this post-however I was given 4 tickets for the purpose of review. As always all opinions expressed are strictly my own.